23.04.23
This month we're exploring the art of modern elegance with interior designer Julie Kantrowitz as she takes us through her latest JK Interior Living project.
Based in New Jersey, Julie's signature style focuses on the beauty of simplicity with a refined meets relaxed feel. Always functional and imagined for longevity, her designs present a liveable elegance - a look we're sure you'll be inspired to emulate in your own home.  
Her interior style...
"My interior design style is a distinctive cross between California Casual and Classic New England. I believe that elegance and sophistication are achieved through layers of well-planned design and identify with the less is more approach."
Inspiration...
"I gain a tremendous amount of inspiration when we travel and am very mindful of providing each and every one of my clients with a boutique hotel experience within their own homes."
Favourite spaces...
"The kitchen in Project Hubbard is one of my favourites. Every designer dreams of clients who allow them to take risks for the greater good of the design. The multi-level marble island in this kitchen was that risk. With my firm conviction, these lovely clients trusted the outcome would provide them with an original yet still classic white kitchen."
Interior Insights: The Kitchen
Intentionally designed interiors have more longevity and this impeccable white kitchen demonstrates how with a warm neutral palette crafted in luxurious materials, an abundance of storage and an understated approach to styling the space.⁠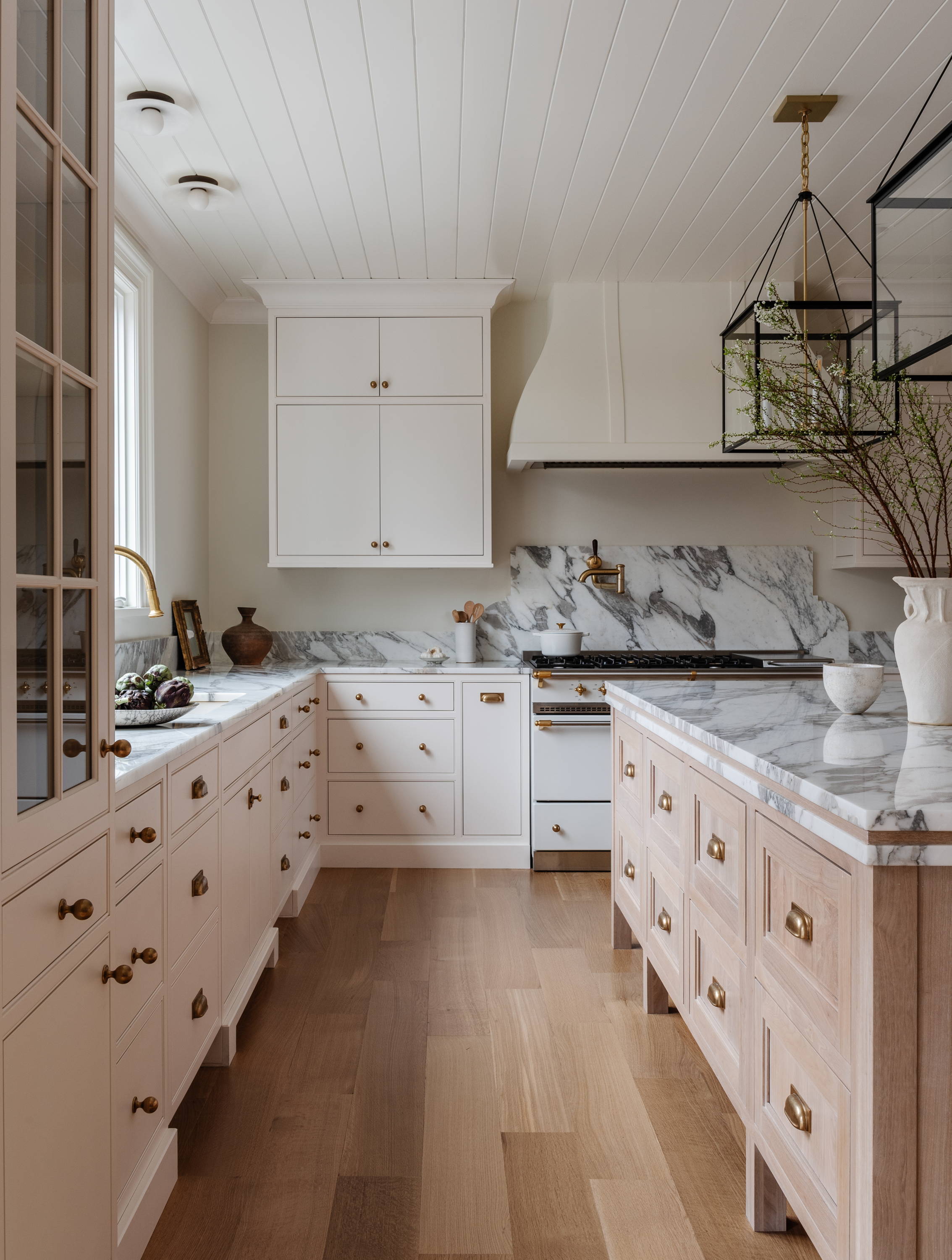 Speaking of the design, Julie says, "A classic white kitchen does not need to be mundane or even worse, avoided. Most of my favourite kitchens are various degrees of white and all are far from ordinary. In this kitchen, I specified the kitchen perimeter cabinetry as Pointing by Farrow and Ball in various sheens."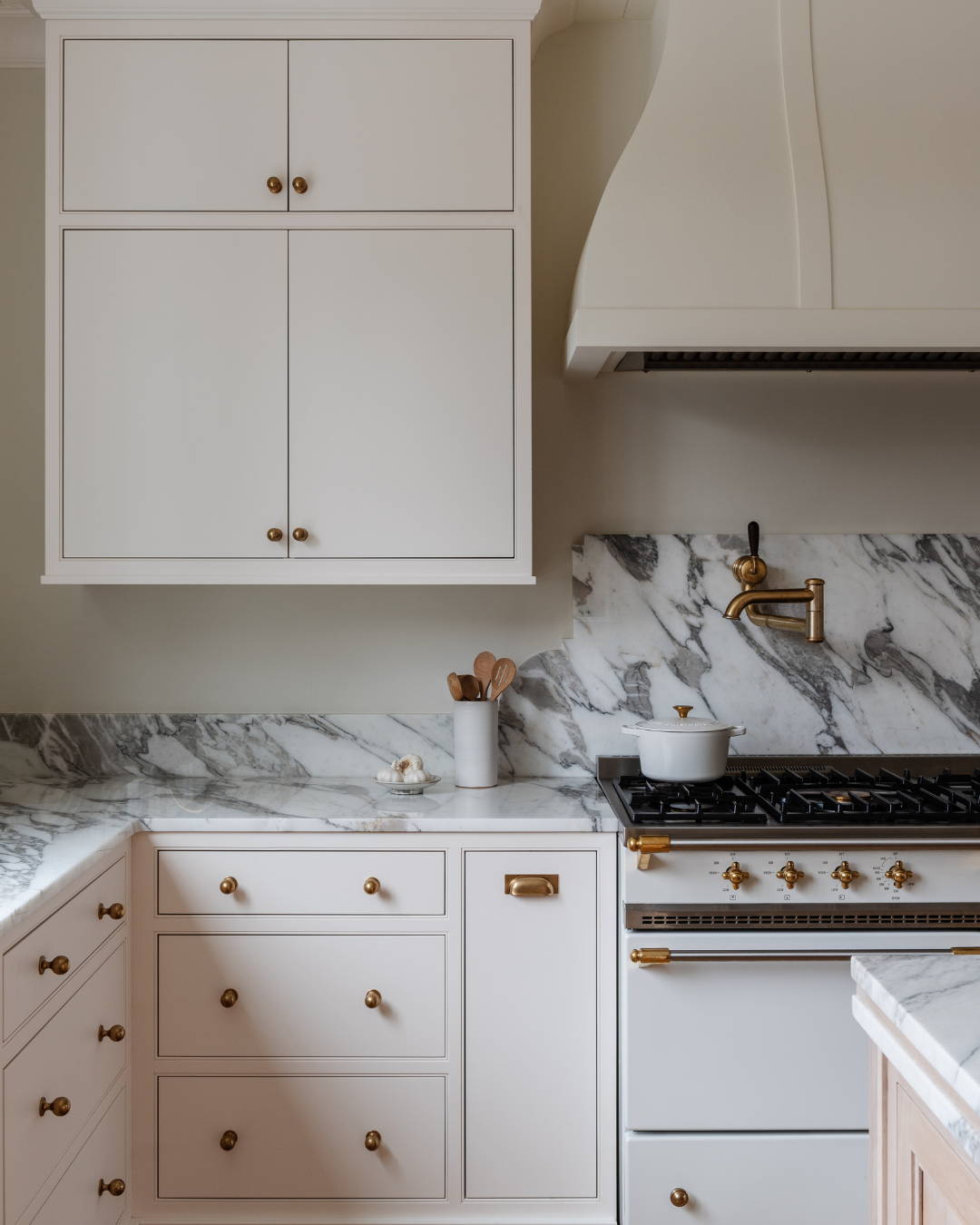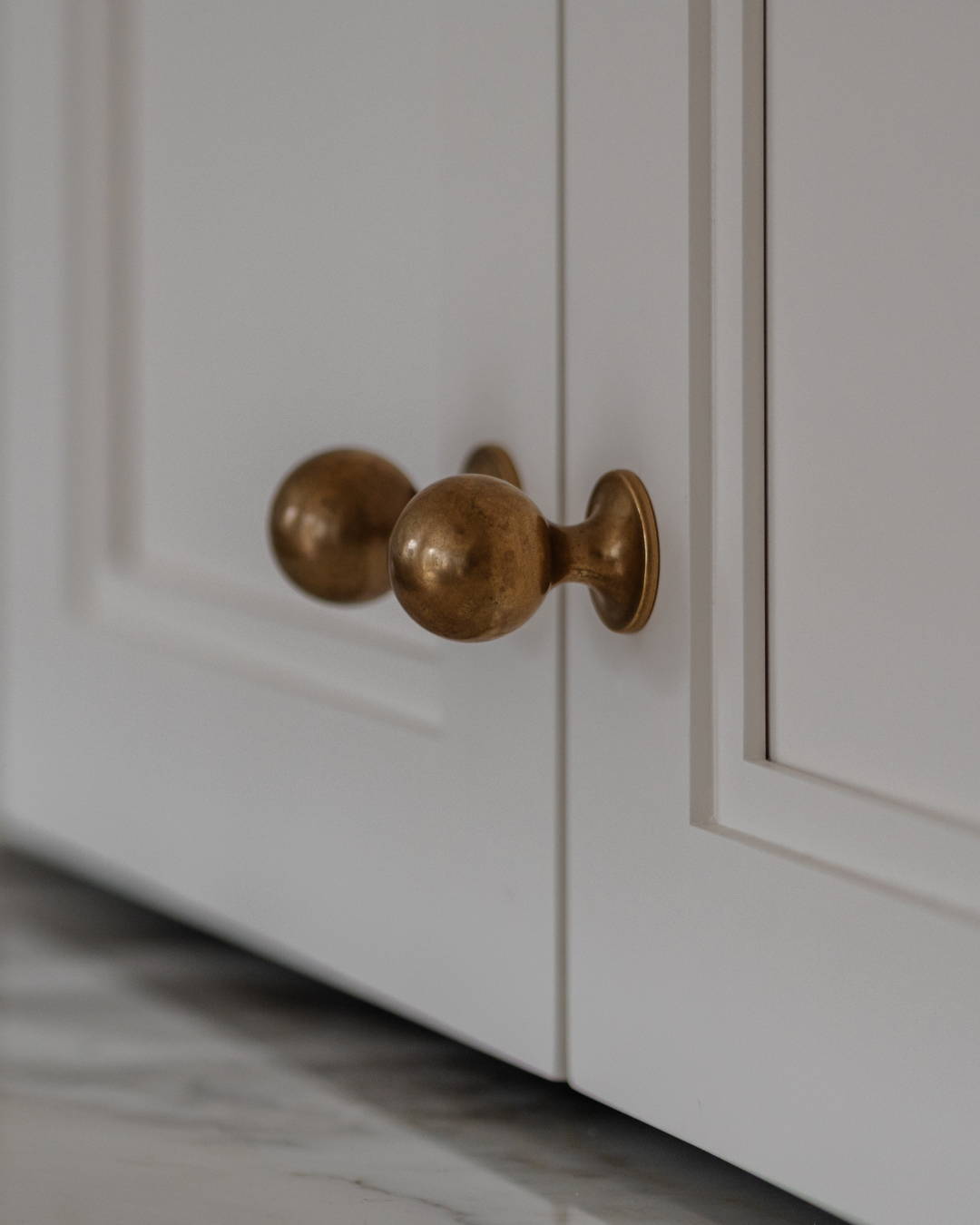 Traditional brass hardware adds instant charm to the kitchen cabinets and the rich golden finish makes for an effortless duo. ⁠Julie shares, "Mixing materials is the foundation of building a complex yet sophisticated canvas for interiors. I opt to alternate styles of hardware within the same tonal scheme for added dimension and interest while remaining cohesive with the overall space."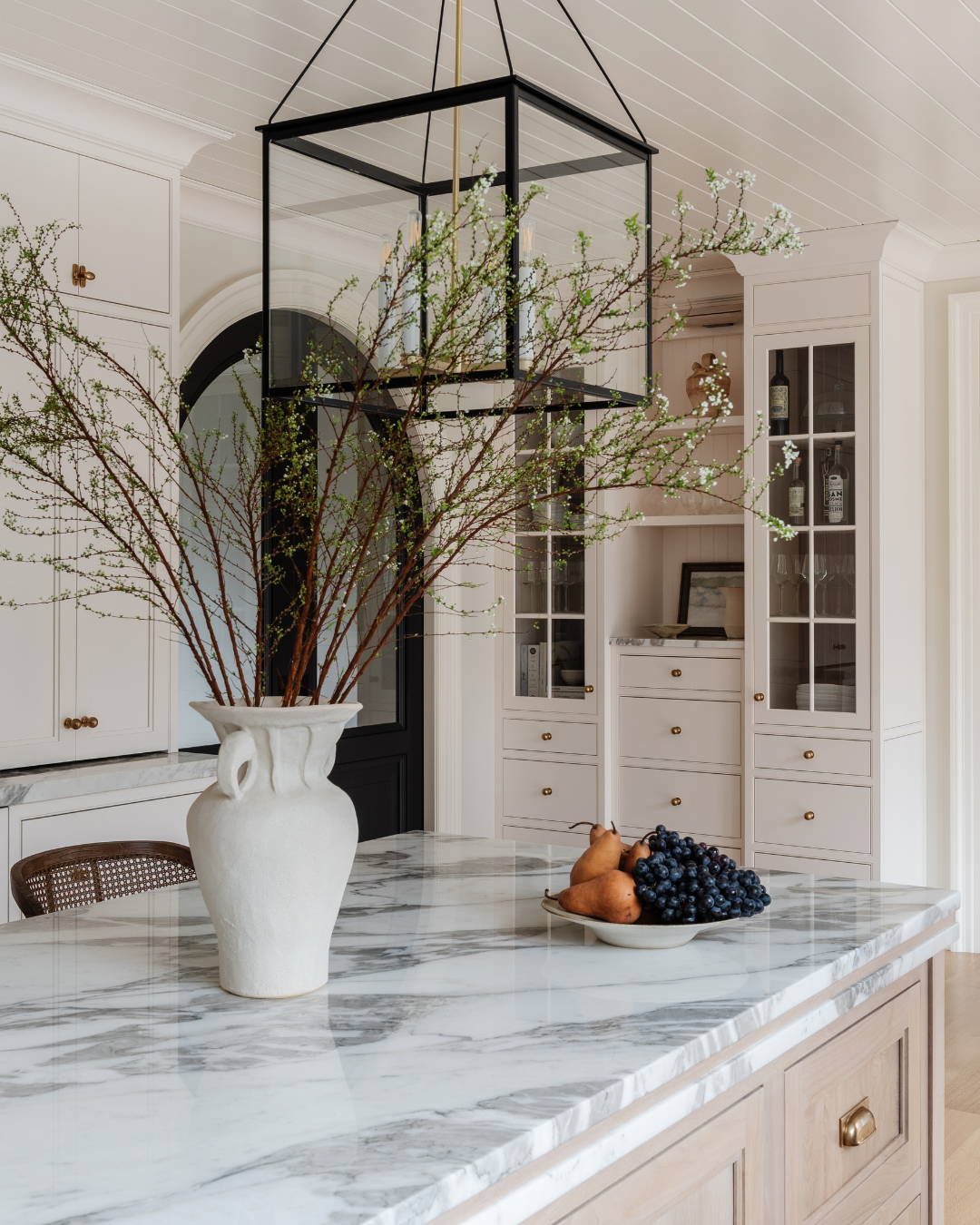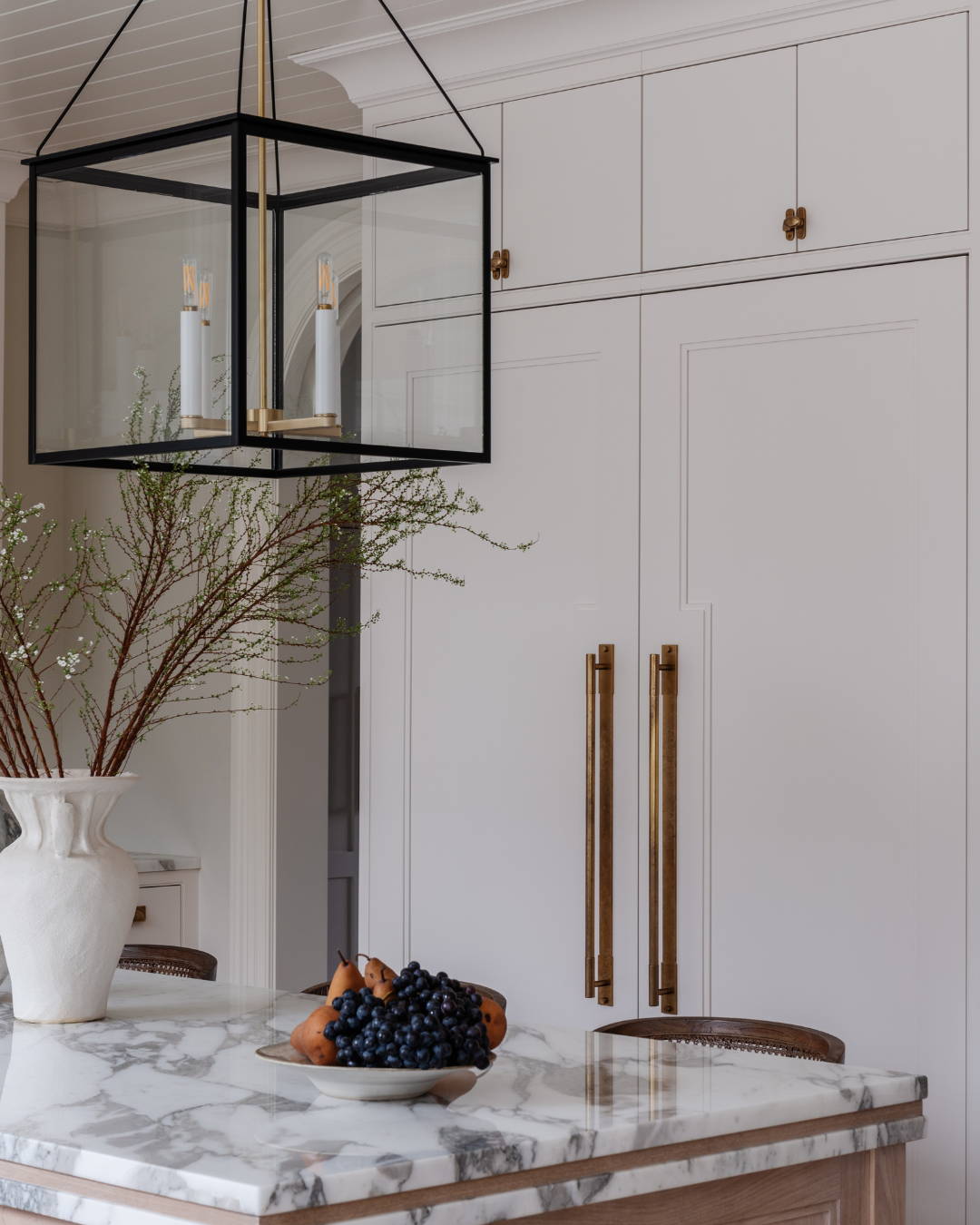 "In this property, we emphasised certain hardware pieces by Armac Martin that we knew would enhance the space, and even designed certain features such as the custom refrigerator panels with the appliance pull specs in mind. I refer to these as 'quiet' and 'loud' moments; most of our hardware selections were supportive in the background while others had their moment to shine."
Interior Insights: The Scullery
Equipped with a pocket door to partition guests from the main kitchen, the exquisite scullery (otherwise known as the back kitchen) features an oversized custom stone sink and painted cabinetry in Quarry Rock by Benjamin Moore. The regal and rich tones create a subtle sense of drama in the practical space and also create a contrast to the neutral kitchen aesthetic.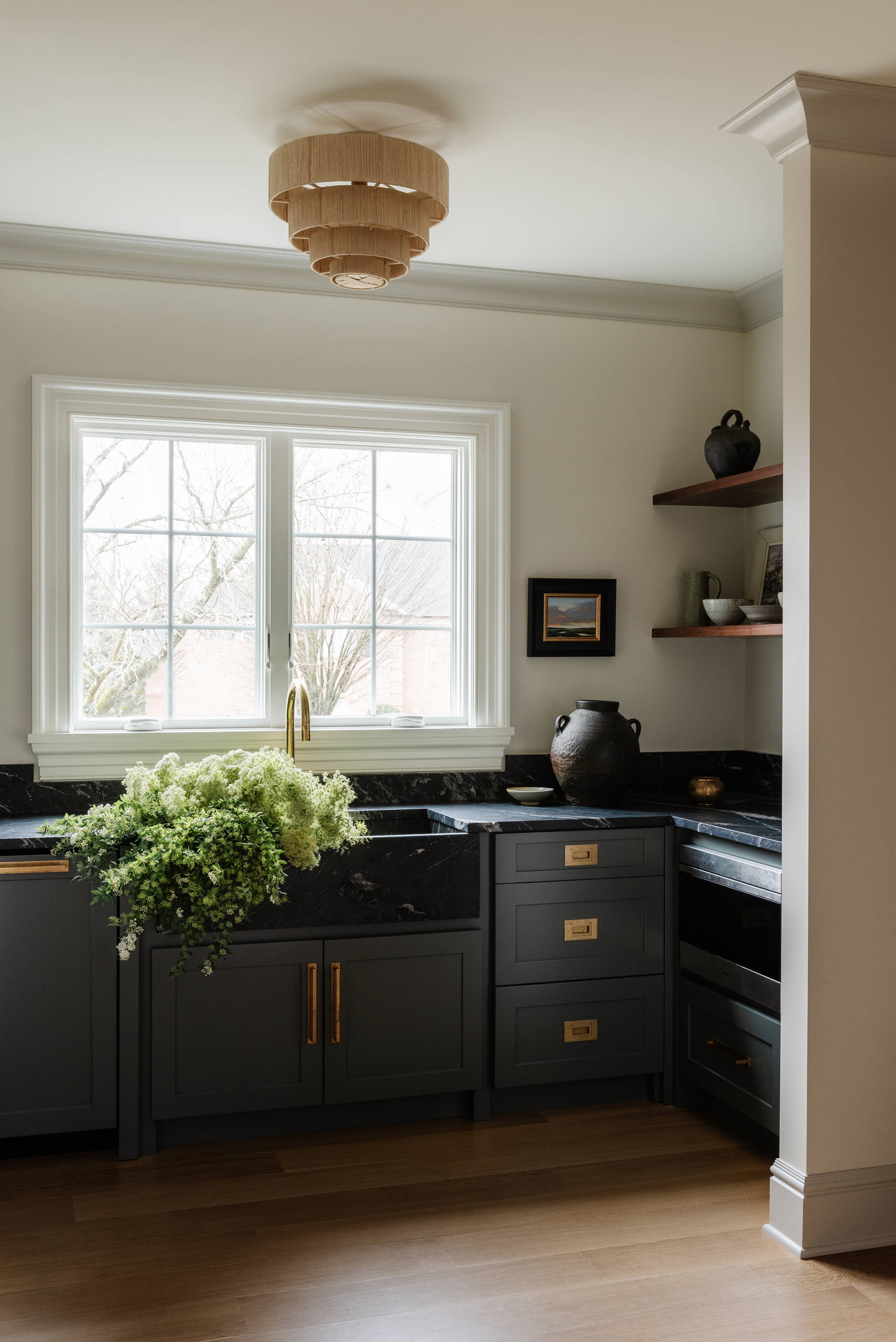 Features our Bromwich collection in our burnished brass finish
"We have plenty of experience with butler's pantries but this was our very first scullery.' shares Julie. 'These lovely clients have an affinity for cooking as well as entertaining and while understandably wanting to keep their kitchen spotless after cooking, this space is where all of the pots and pans rest while dinner is underway."
Interior Insights: The Boot Room
In perfect symmetry, the cabinetry design of this minimal boot room adds simple elegance to essential storage space.⁠ A balance of pure form and function, the design beautifully demonstrates Julie's 'less is more' approach with her design centred around the floor-to-ceiling bespoke joinery build.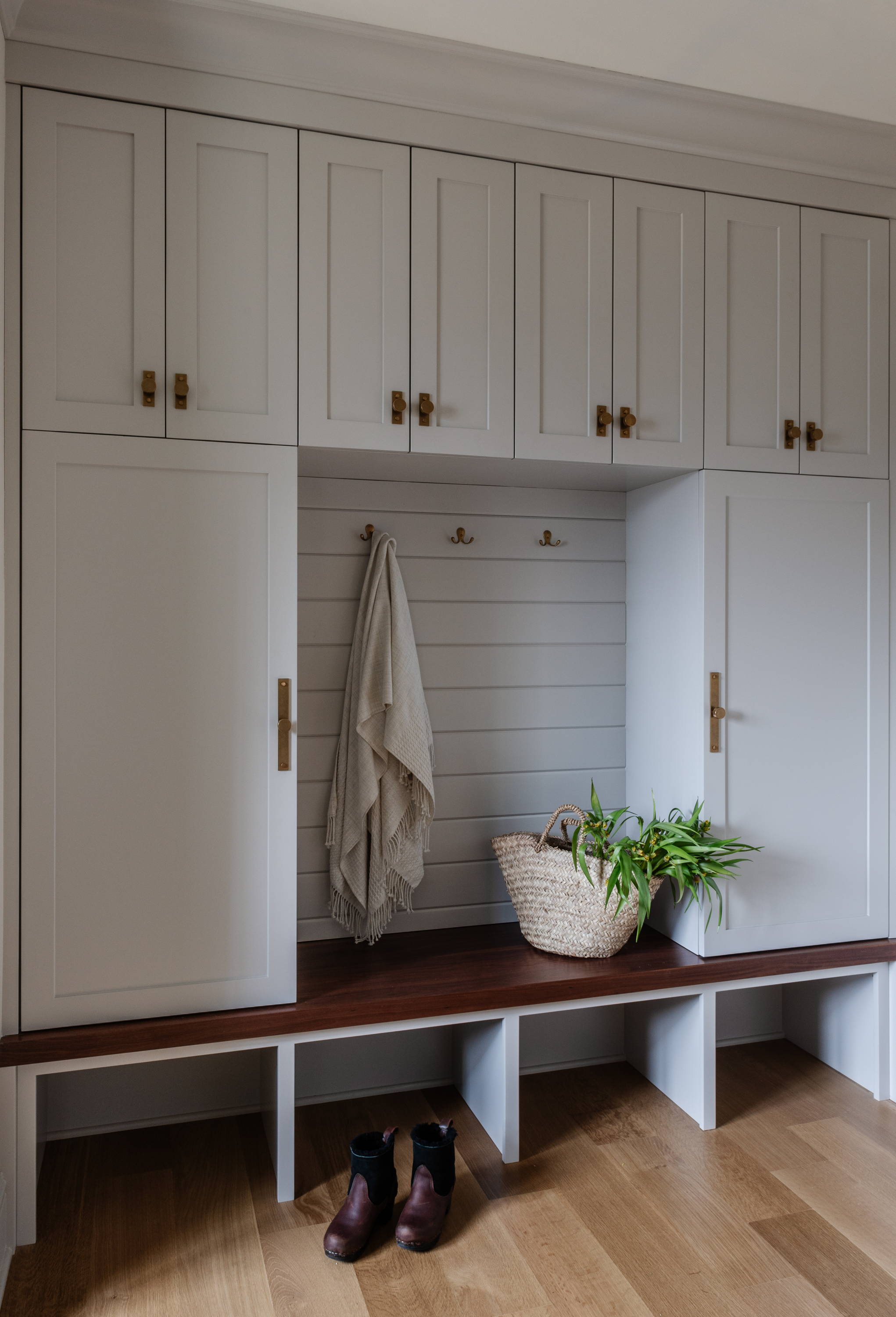 Julie notes, "None of my custom homes are complete without incorporating Armac Martin and this room is no exception. The range of finishes and styles are unmatched and the quality is far superior to other leading hardware lines."
Interior Insights: The Primary Bathroom
Decadently dark cabinets and rich golden accents give this his and hers vanity area a boutique-hotel look that can be enjoyed every day. Neutral tongue and groove panel walls create a soft backdrop to the statement vanity and give a two-tone effect to the space also reflected in the classic checkerboard flooring.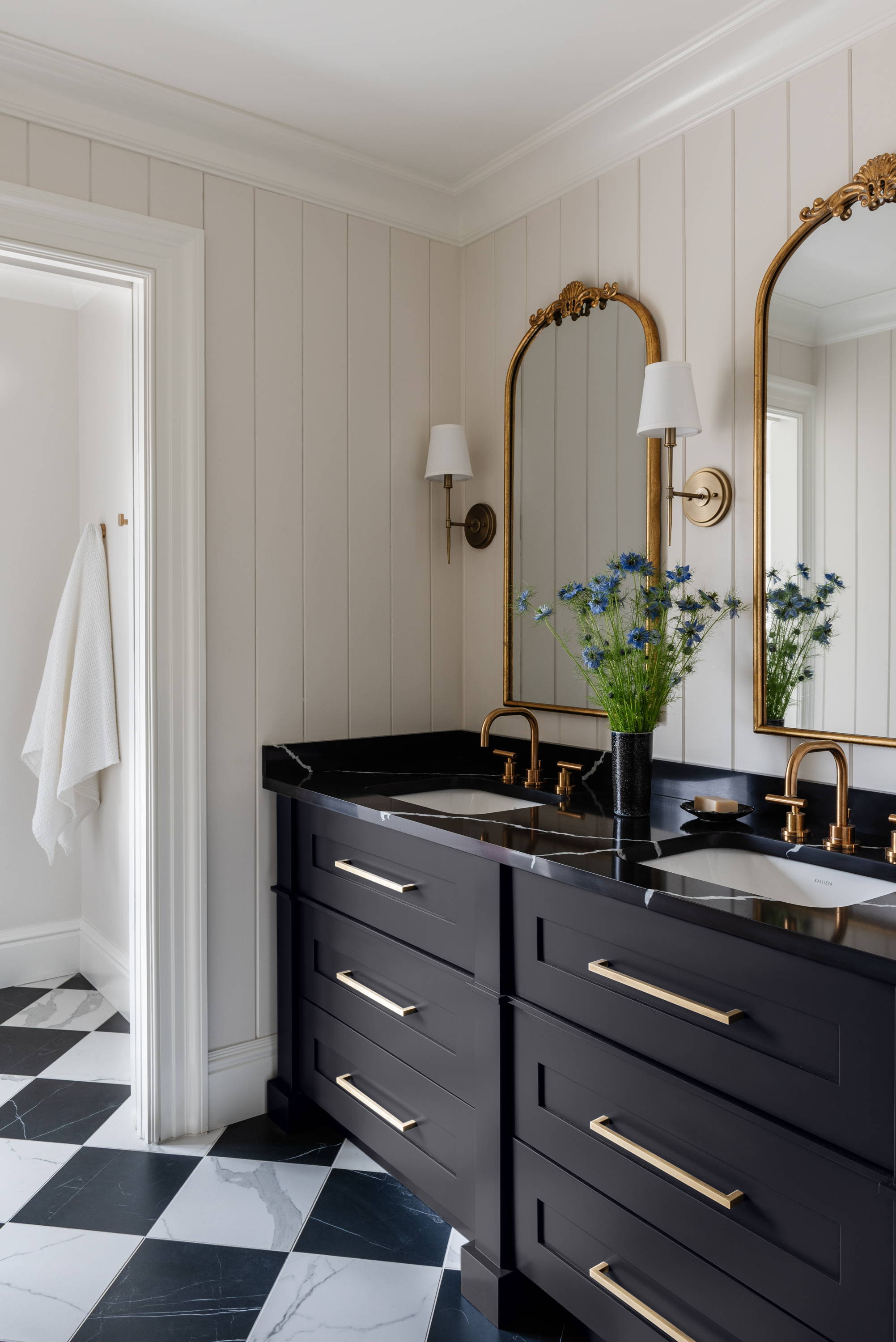 Features our Bromsgrove collection in our satin antique satin lacquered finish
"When approaching design, my advice is to deconstruct the process upfront and select one or two focal features at most. From there, all supporting components should only enhance, not distract, from your focal intention. Whether referencing hardware, lighting, or overall stylistic approach, the same composition holds true."