29.11.21
You don't need to delve too far on Instagram or Pinterest before you're presented with the shelfie. Over the last few years, styling shelves has become somewhat of an art form; from colour coded bookcases and artistically styled alcove shelving in the living room to single open shelves in the kitchen and utility room, interior enthusiasts everywhere are smitten with curating the perfect shelf.
The beauty of this particular trend is that your decor can mirror the season with little effort - the simple rearranging of a few ornaments, the addition of fresh foliage and you're almost there. At Armac Martin, we adore open shelving, especially when paired with our beautiful brass shelf brackets and as the festive season approaches, our editor is sharing effortless ways to style a kitchen shelf with a round-up of sophisticated Christmas shelf styling tips.
CHOOSE YOUR COLOUR SCHEME
When it comes to your colour palette - three is the magic number. We love white, green and gold; the aesthetic is timeless and the placement of a few elegant metallic accessories ties in beautifully with our luxury brass shelf brackets.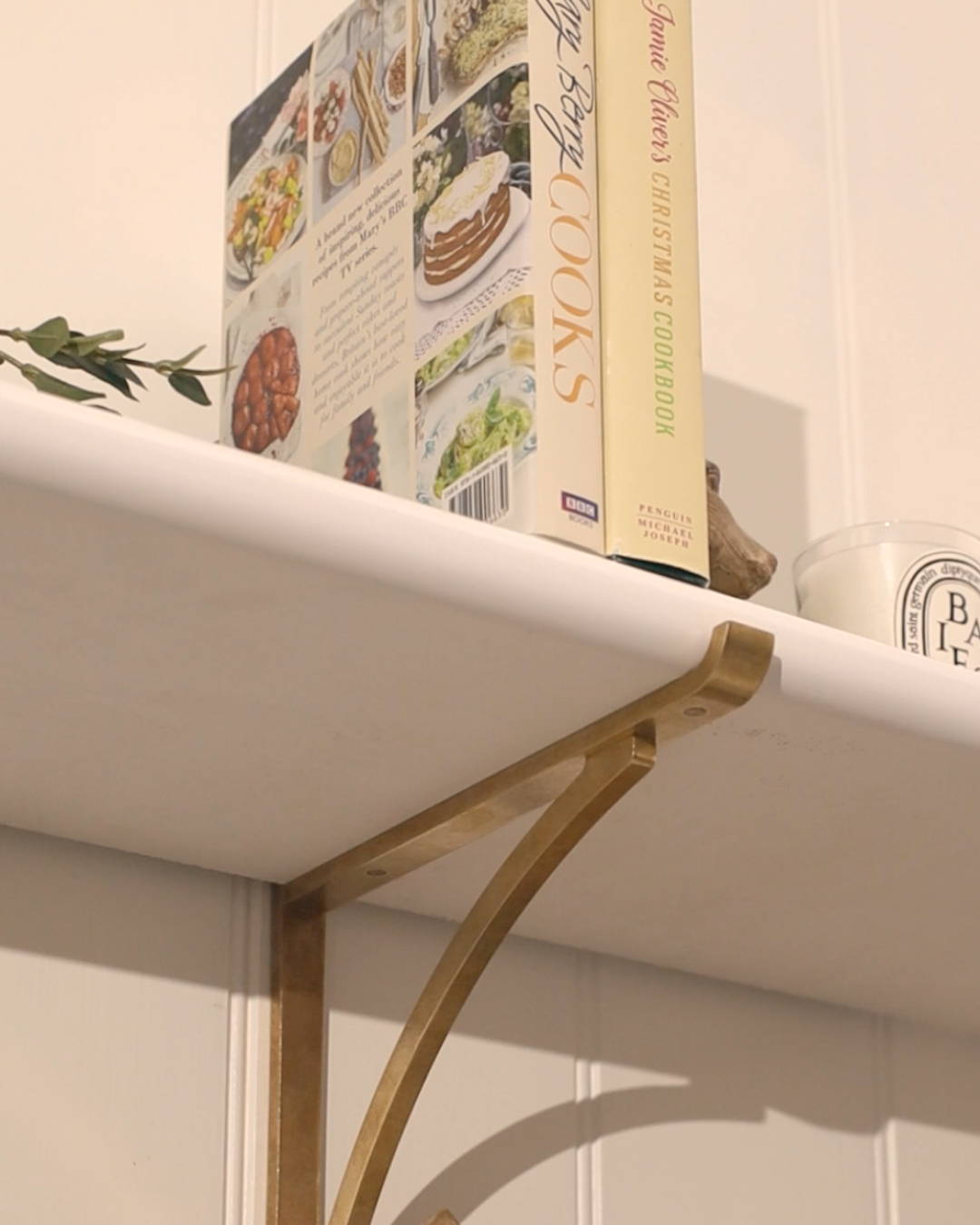 Begin by creating a central focus point you can build upon - this works best with your largest ornament or decoration. In the kitchen, open shelves may double up as being both decorative and functional to accommodate storage and so items like chopping boards or bowls are a great option to place in the middle.
Balancing each side of the shelf with an object of equal height on the opposite side will bring symmetry to your shelves. Opt for a mix of shapes like your favourite recipe books and candles to keep the styling personal.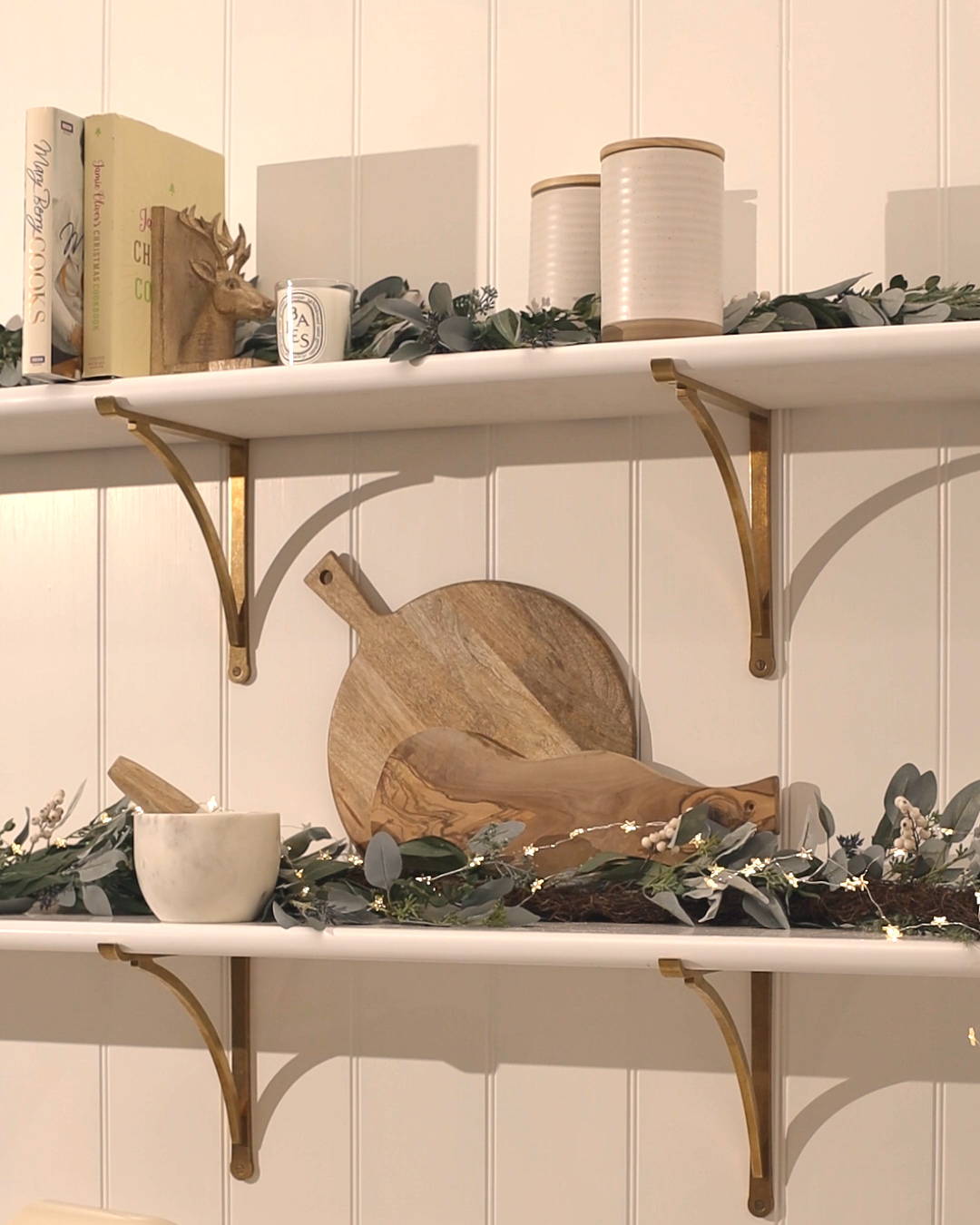 We mentioned three is the magic number and this rule applies to creating visual triangles with your ornaments and accessories too. Choose three pieces in the same colour or texture and place these on different shelves to naturally draw the eye to create a triangle formation.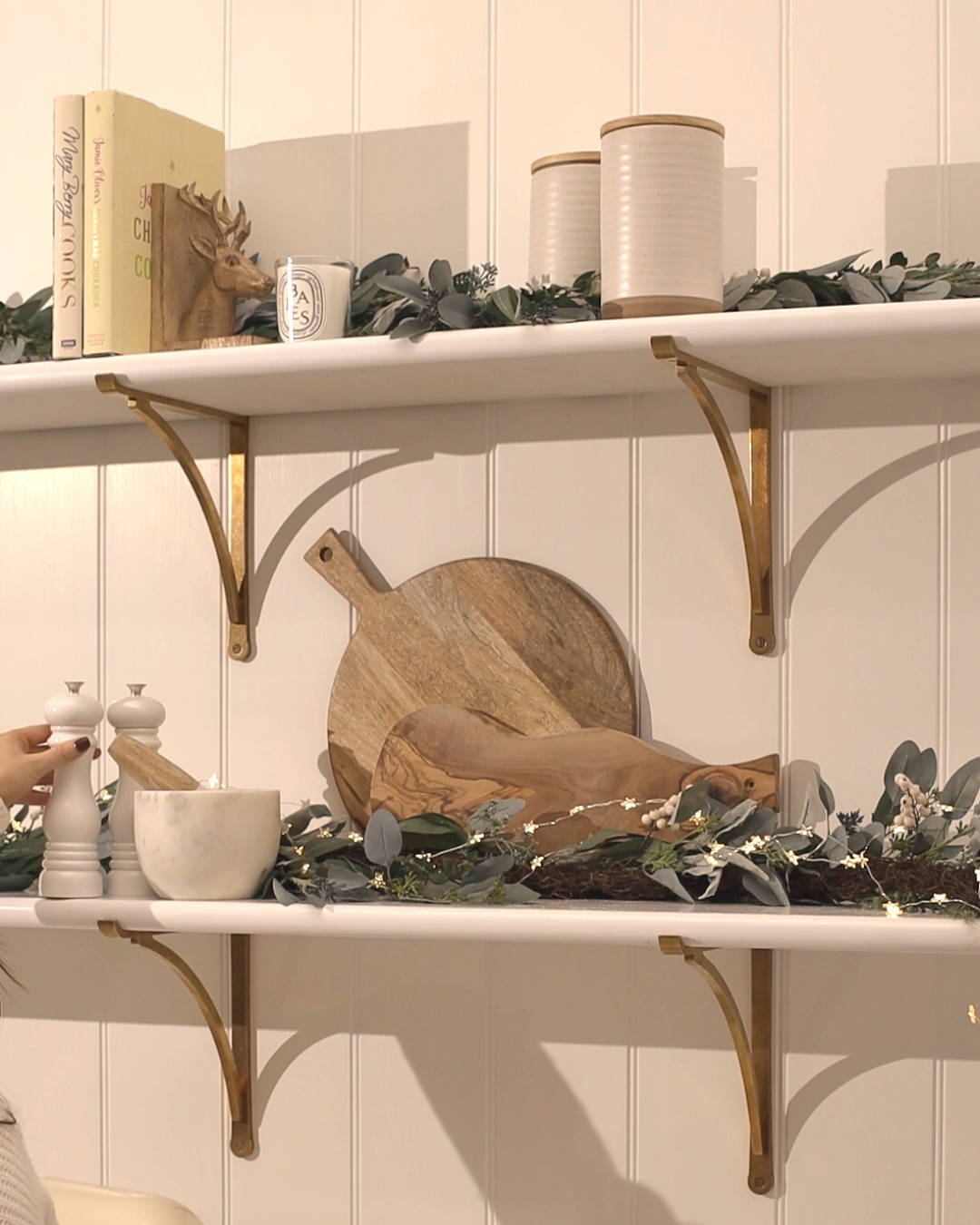 If your shelves sit pretty above a worktop, consider creating your own hot chocolate or coffee station for when family and friends visit. In keeping with the theme of your shelves, neatly place all the things you'll need - a plate of mince pies is optional but sure to be welcomed.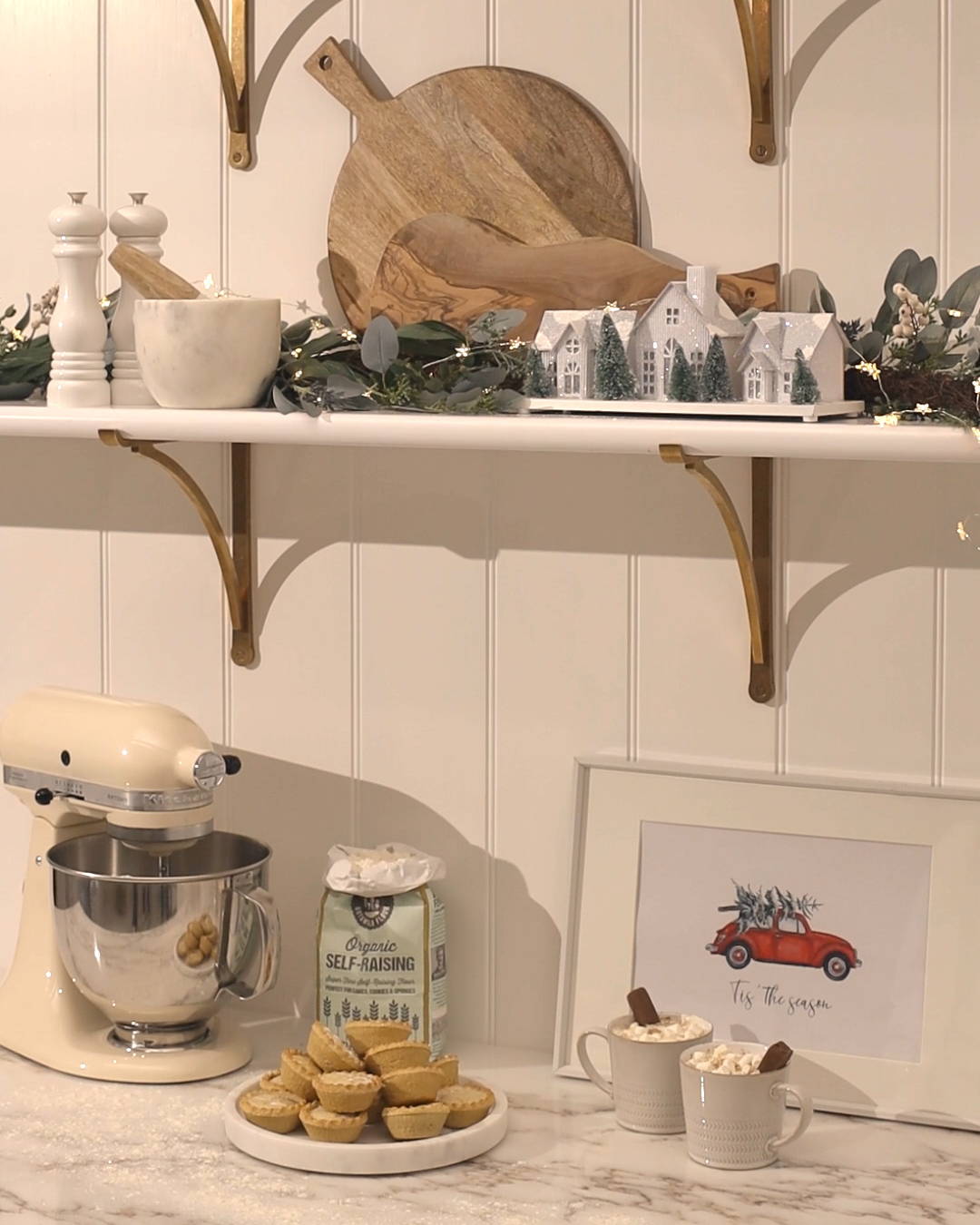 A few natural flourishes like a festive foliage garland or vase of twigs are all you need to give your shelves a subtle nod to the season. From sprigs of spruce to pinecones, embrace the rustic look and make it a Christmas tradition to go foraging in your local area.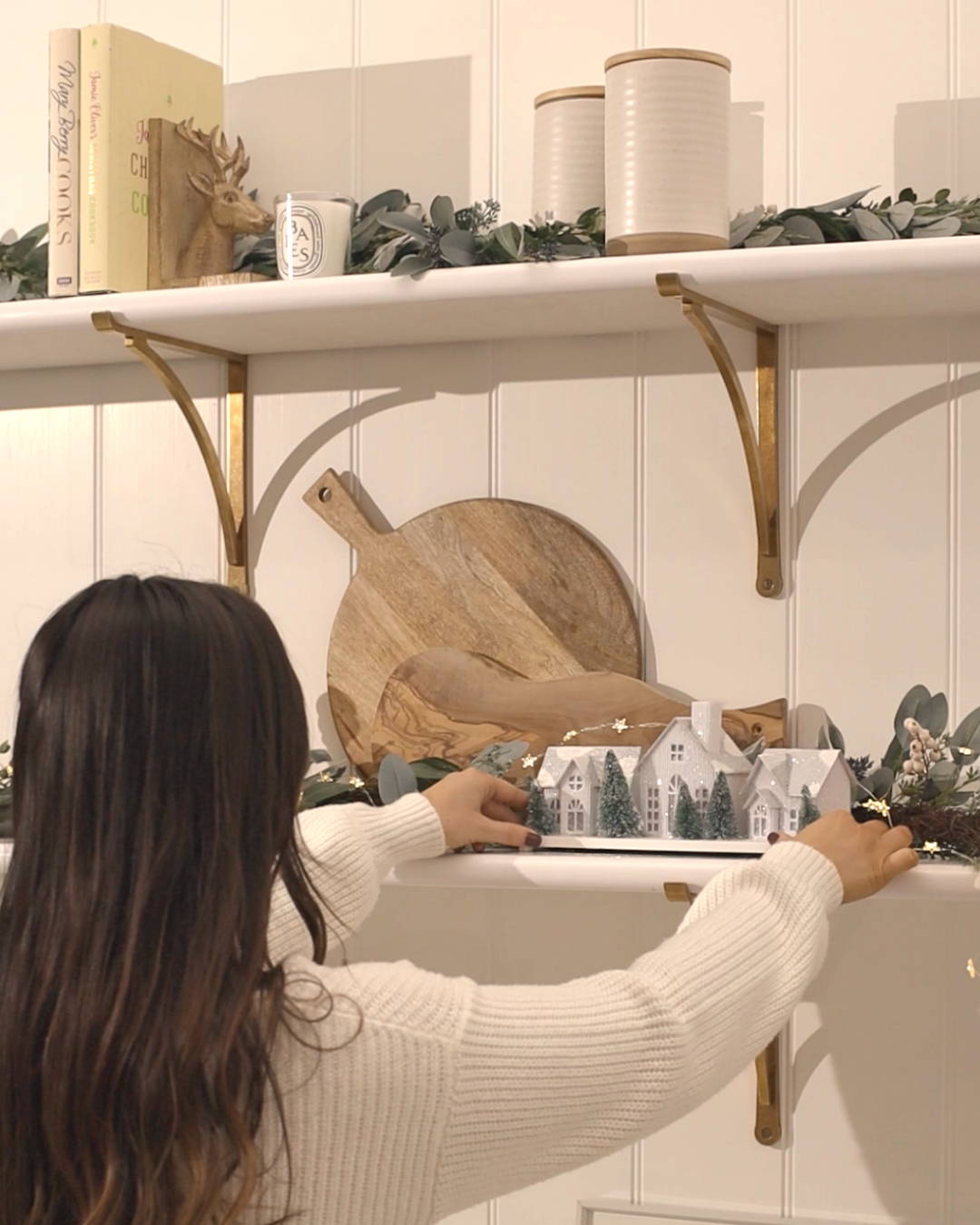 Lastly, there's little else that says Christmas like lights. A simple string of fairy lights draped across your open kitchen shelving will create a truly cosy ambience. Our editor recommends opting for warm white for a wonderful winter glow.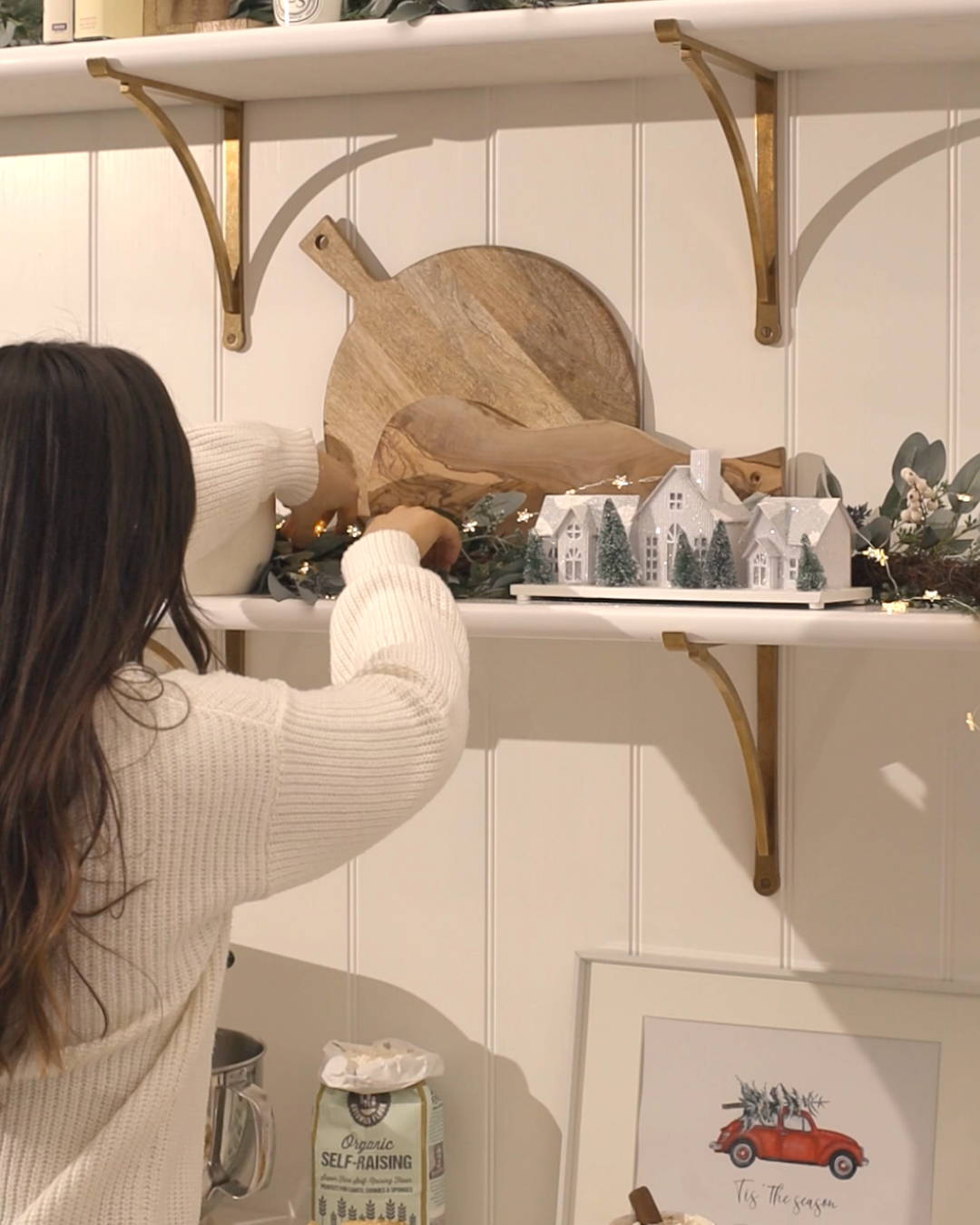 We'd love to see how you style your shelves this Christmas, tag us @armacmartin on Instagram.