17.07.23
Located in West London, we're delighted to share a kitchen design we're all coveting from Victoria Summer, the TV producer turned interior content creator who has truly impeccable style.

Bounteous with natural light from the trio of skylights and crittall doors overlooking a tranquil city garden, Victoria's radiant neutral kitchen illustrates the pure harmony formed when opting for a tonal design.
Victoria shares, "We bought our Victorian terraced home in December 2019 and have now renovated the entire house. The process was long and challenging but I've loved creating the space that I wanted for my family. The kitchen was the final area of the house to be renovated and we extended it into the garden and the side passage and stole some space from the reception room to make into a utility room."
Victoria's kitchen feels like a sanctuary and after a two and half year journey to completely renovate the space, the result is a truly serene and sophisticated design, perfect to escape the buzz of city life and spend family time.
Opting for painted cabinets to emulate a more contemporary country kitchen, Victoria chose Drop Cloth for the units and Mouse's Back for the island. The subtle change in these fawny taupe tones adds an understated two-tone dimension to the open-plan design.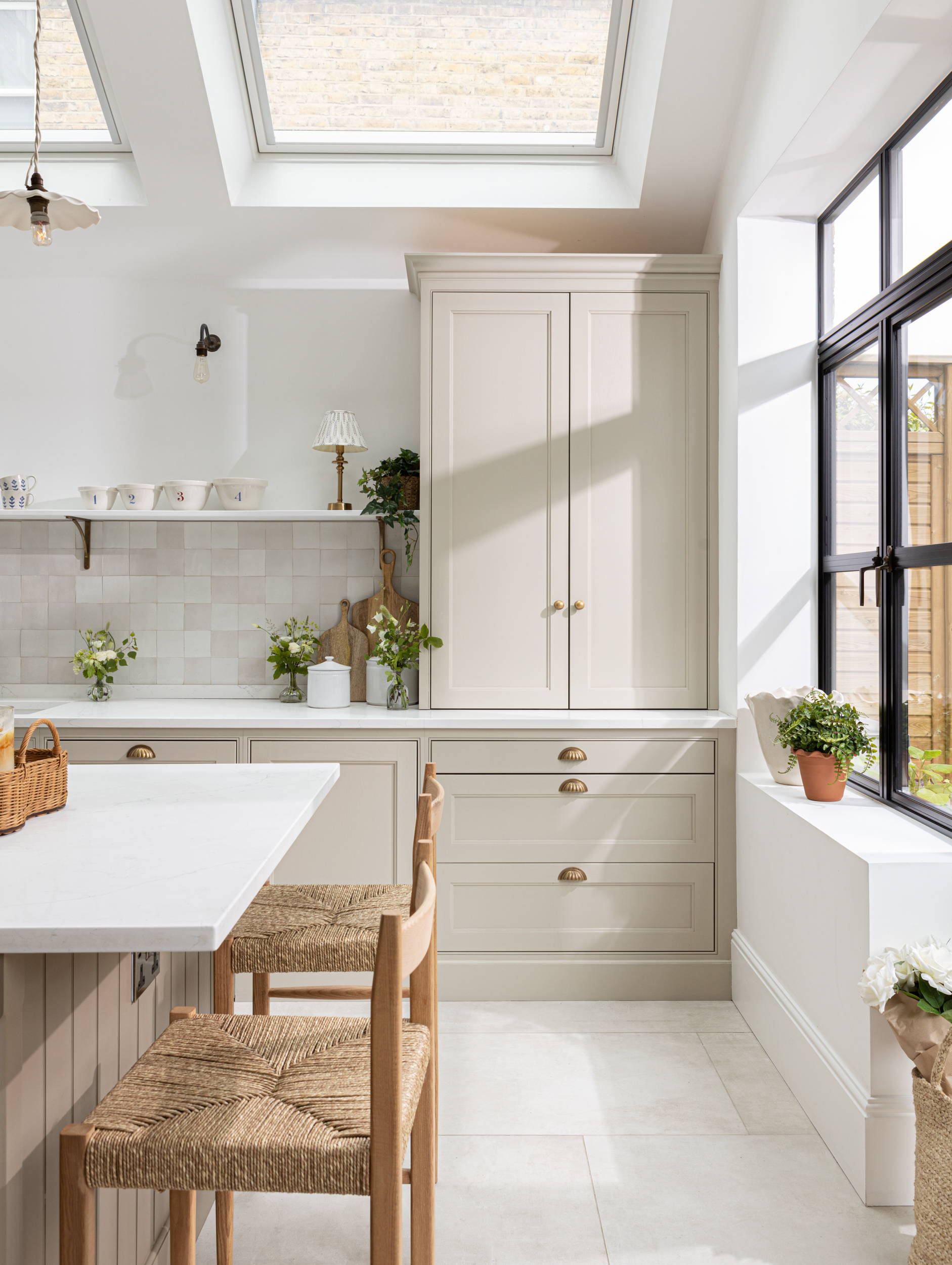 "The kitchen is shaker cabinetry with tongue and groove end panels in two lovely neutral paints by Farrow & Ball. The kitchen features quite bold black aluminium windows and doors and even though they were chosen as they were the only ones available in my timescale, I have come to love them and feel they are a good contrast to the neutral space," says Victoria.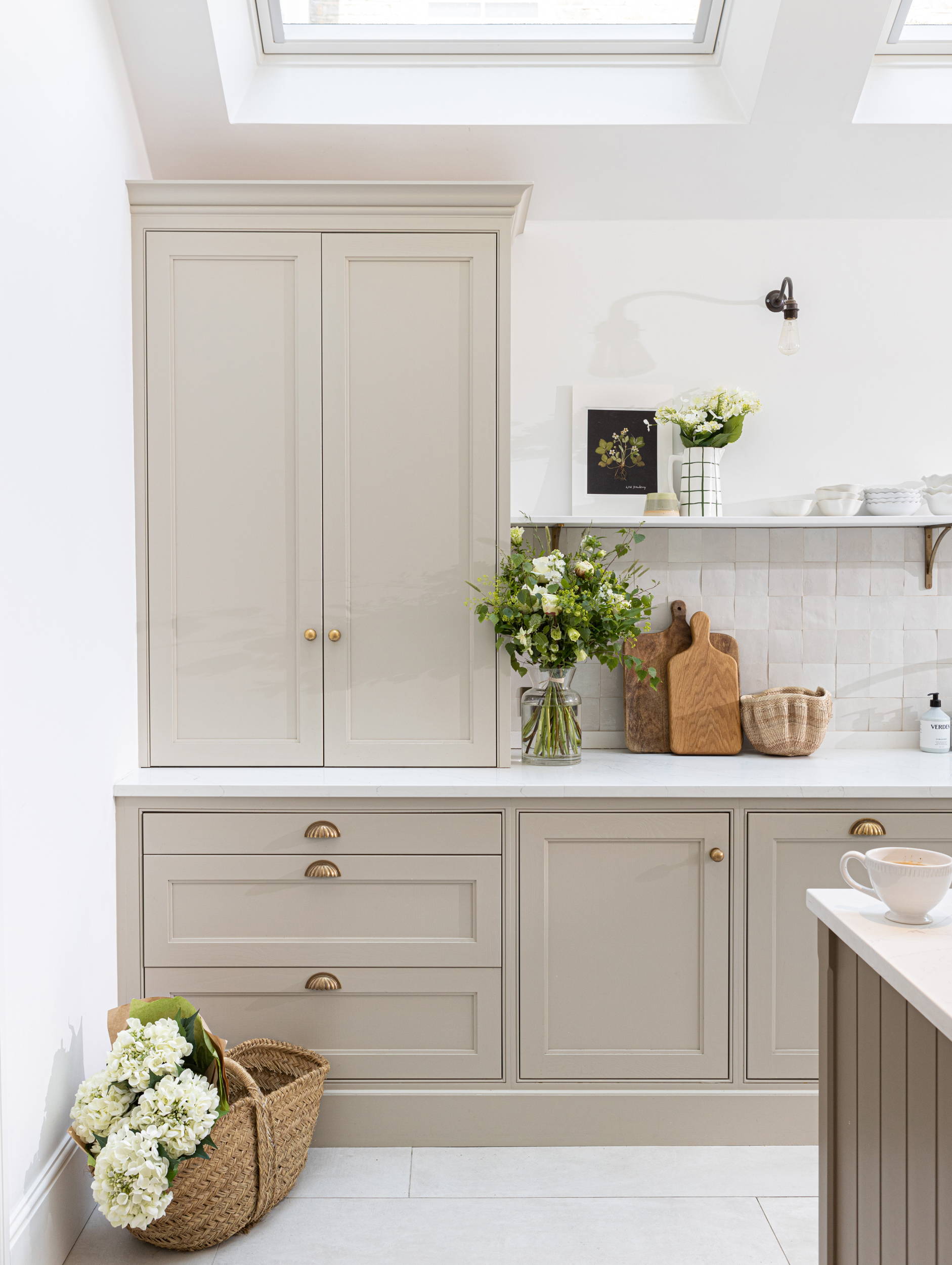 Refined whilst relaxed, Victoria has created an effortlessly elegant kitchen with lasting appeal. A palette of warm neutrals welcomes you in with an instantly comforting mix of taupe cabinetry, rattan and oak accents and gleaming golden details paired with bright, crisp whites.
The space has that desirable lived-in luxury feel thanks to thoughtfully placed decorative items and an abundance of fresh greenery in simple vases and baskets. An organic approach to styling, Victoria incorporates the contents of her kitchen, allowing measuring cups and utensils to become part of the decor.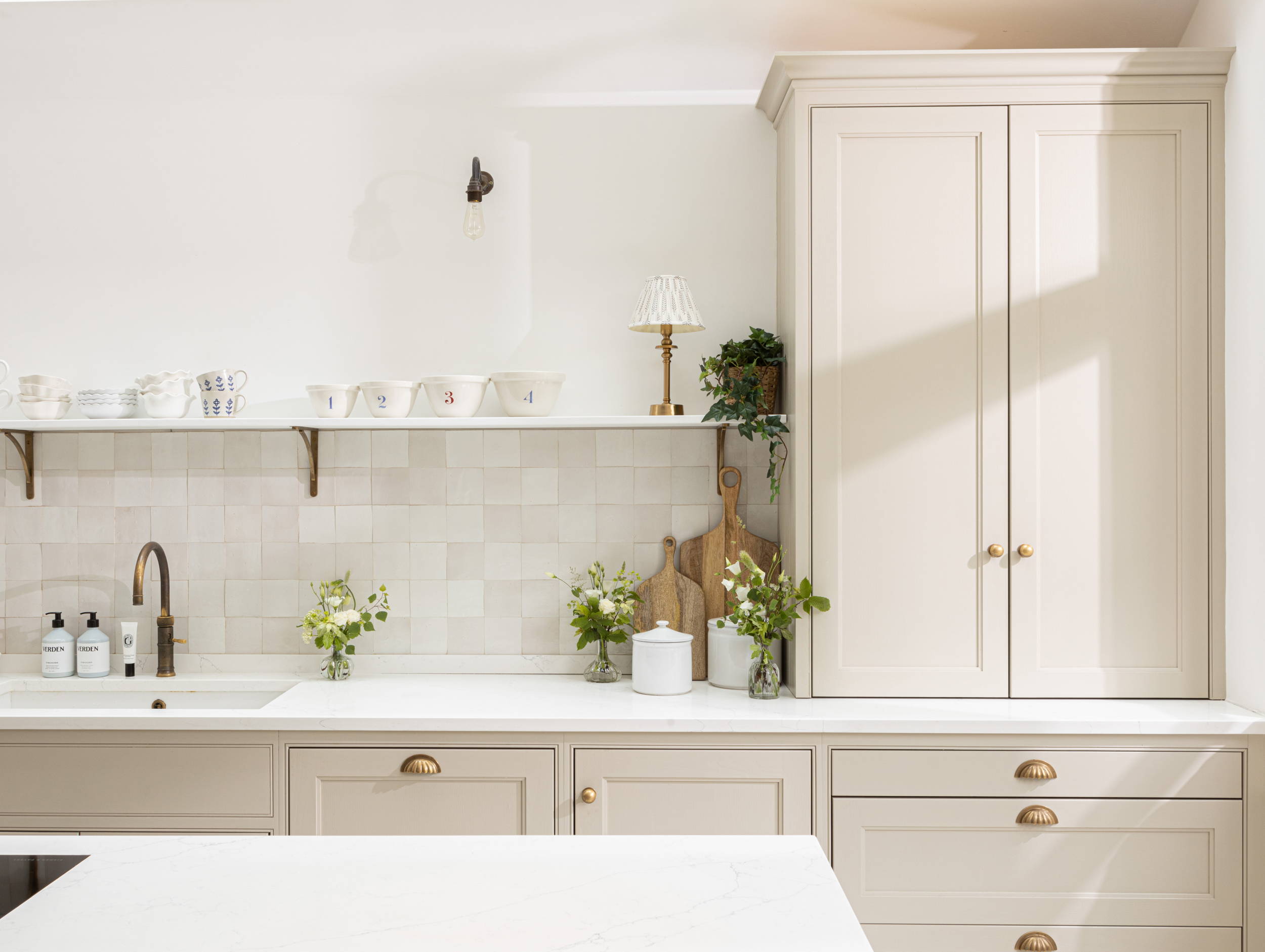 "My overall style is neutral but with layers of textures and patterns to add interest. My open shelving gives me opportunities to style the kitchen seasonally and the iridescent zellige tiles are my favourite feature," shares Victoria.
From traditional pot rails with s hooks to display her most reached-for utility items to shell-shaped hardware to dress the neutral cabinetry, every delightful design detail in Victoria's kitchen marries form with function with each piece chosen for its purpose as well as elevating the timeless aesthetic.
And it's not only the smaller design details, the appliances are neatly concealed too. Both the oven and microwave are hidden behind the island, the fridge and freezer are integrated to look like a larder cupboard, the dishwasher appears as if drawers and the coffee machine is housed in its own dedicated cupboard.
"The Cotswold knobs are timeless and their burnished brass finish is beautiful - the patina and quality are exceptional and I'm so pleased I chose the Aberdovey shell cup pulls for the kitchen - they bring joy daily and help elevate the feel of the kitchen away from the plain shaker style."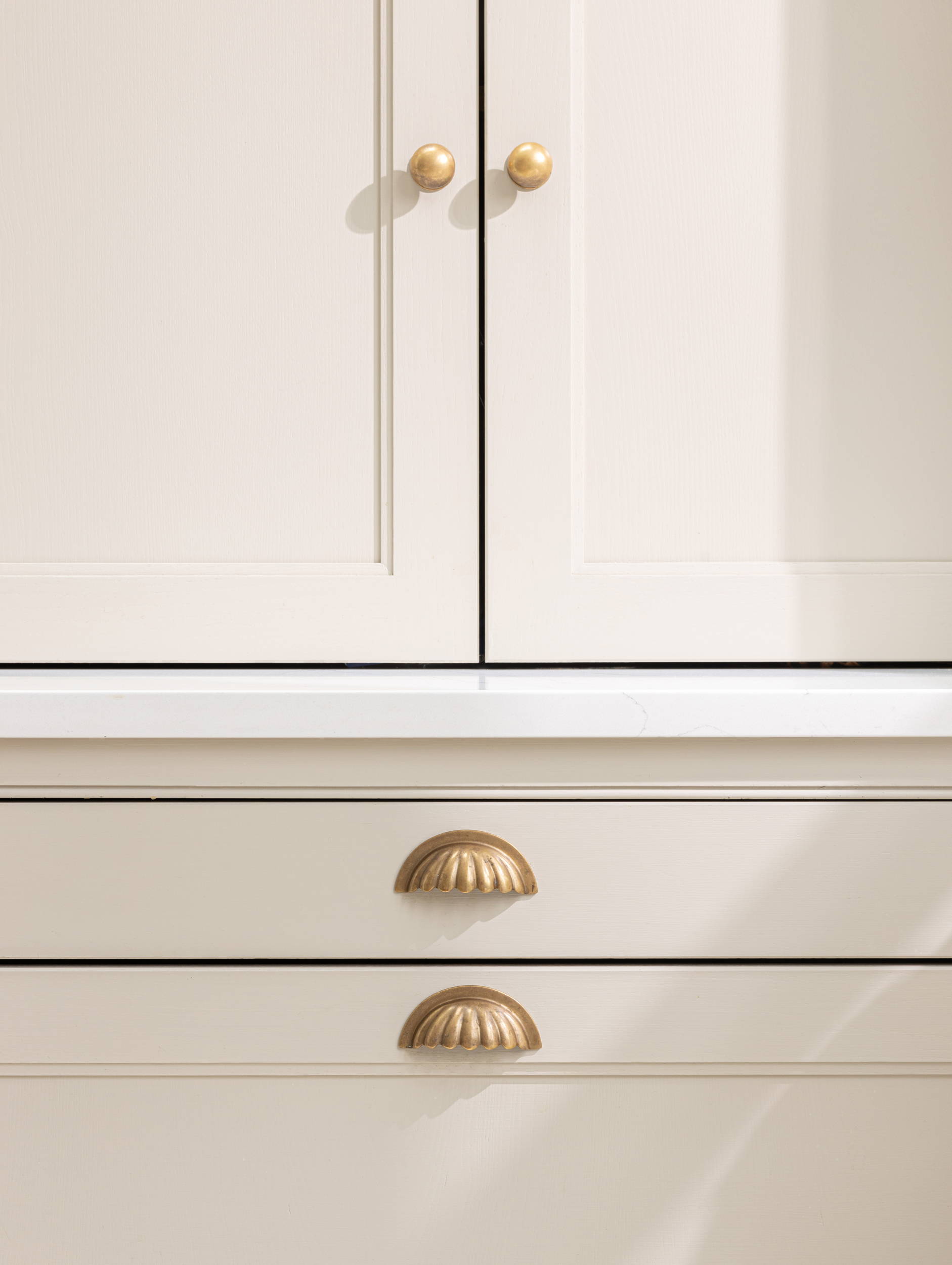 "The brackets are an important feature holding the long shelf which I style seasonally with glasses, vases, prints and flowers. The shelf is very simple and so I feel the brackets inject an element of elegance and are the same beautiful finish as the knobs and pulls."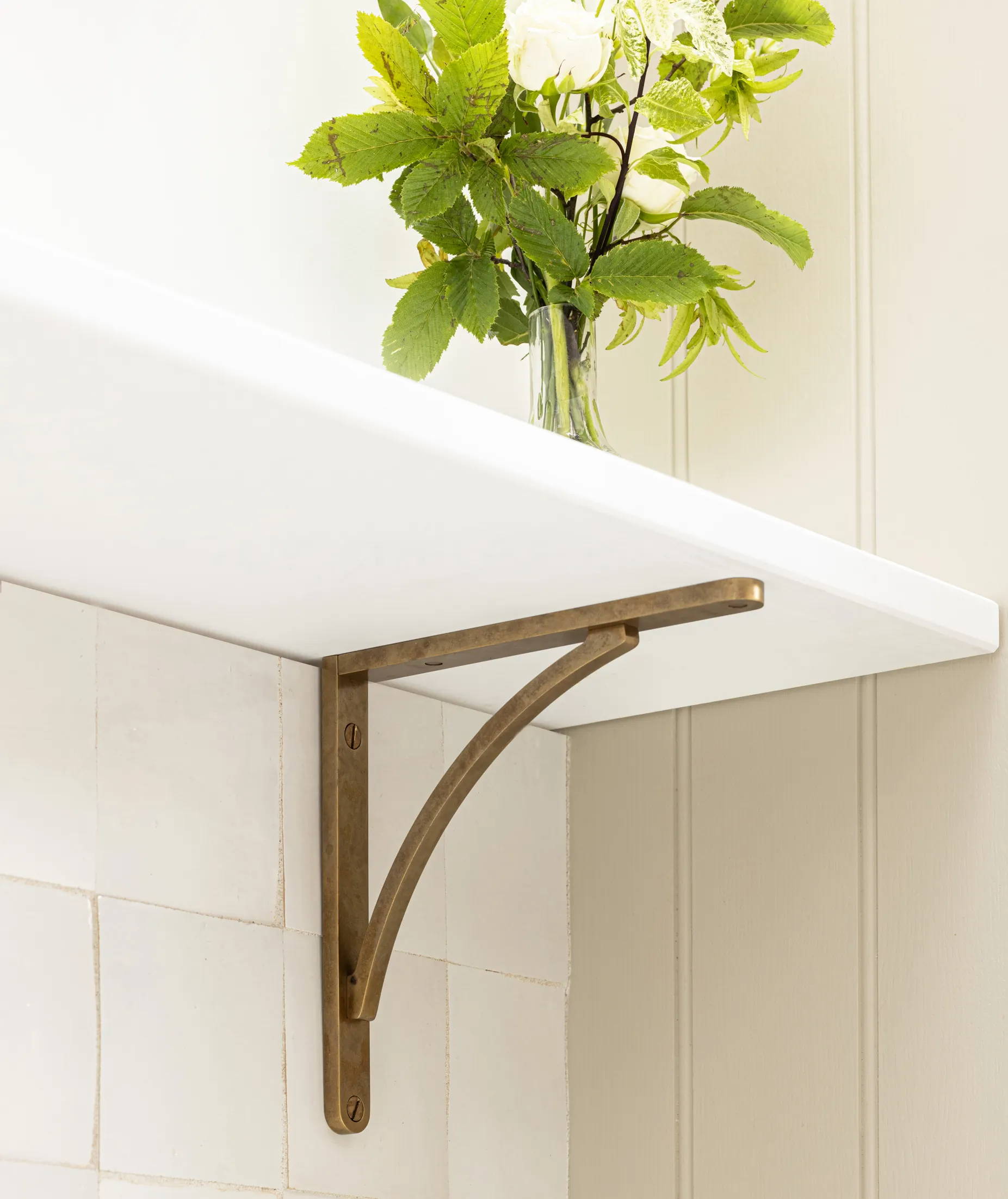 Features our Handsworth Shelf Bracket in our burnished brass finish.
"I use my utility pot rail to hang decorative items such as wooden brushes, a wicker basket with dried flowers and an enamel colander however I also hang practical items such as scrubbing brushes and tea towels too."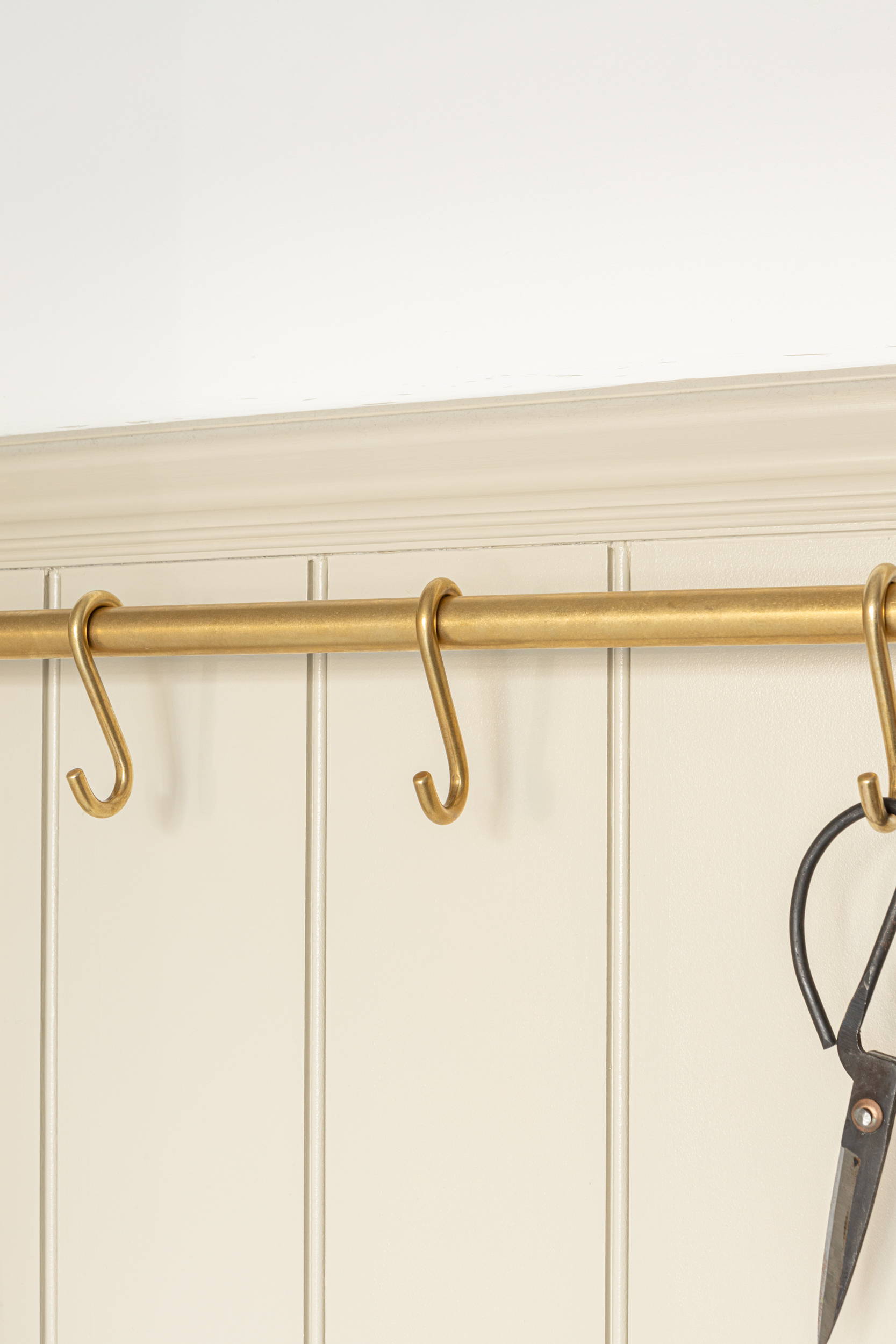 For more inspiration, follow us on Instagram.